Name:
Thor Adams
Meister:
Knight
Affiliation:
None
Exorcist Rank:
None
Gender:
Male
Age:
16
Demon Parent:
Lobo (Wolf demon, making him soon)
Birth Date:
2/18
Place of Birth:
Japan
Appearance:
Demon form he grows wolf ears, fangs, a tail, gets icy blue eyes and his hair turns white
Height:
5'11
Weight:
170 lbs
Personality:
To people who have never met him, Thor seems cold blooded, merciless, evil and emotionless. But to people who have met him, Thor is just a normal guy. Thor is very lazy, and won't do anything for anyone unless it benefits him as well or it's someone he cares about. He is also very shy around women. He likes training, eating and sleeping, because he IS a normal teenager. He hates demons and kind of gets annoyed by those preppy True Cross kids.
History:
His father (Lobo) seduced his mother, who was an American diplomat in Japan and then the man left afterwards, leaving a single mother and a bastard child. That bastard child was Thor. His mom raised him as a normal boy, which was hard to do, seeing as how his school grades were so low and he seemed to enjoy fighting with other children. Then, one day, when he was 14, he fought with a gang, and not just one member, the whole friggin gang. It was then, in this fight, that his true demon form was awakened. He killed the entire gang, and his mom, apon seeing this, decided he must attend True Cross Academy to better his powers. Blatantly refusing, Thor began a life on the run, stealing and pillaging to survive and live. One day, while in a city, he was met by a werewolf. The werewolf smiled and gave the boy a sword and then, touching his forehead, removed the boys demon powers and put them in a wolf. He then told Thor that he was his father, Lobo, the wolf demon. Thor began yelling at his for leaving him and cursing, then tried to attack him, which Lobo easily deflected. Thor's new mission was then to defeat his father and train with his weapon, which he did by himself. He also discovered his demon form and train with that as well. He and the wolf, Timber, also be
Weapon:
Wolfsbane
-Demon sealed in it: none
-Powers: It can manipulate Ice energy, a white, frosty looking energy that is freezing cold and freezes cuts, making them hurt more and be subject to infection, he can also freeze small amounts of blood
Familiar:
-Name: Timber
-Appearance: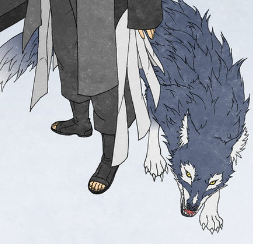 -Personality: He is a very animated and comical been. He constantly jokes about everything and is very lighthearted, but does everything to help thor in his power
-History: He was created by Lobo to aid him in battle. But he then turned out to be a runt of the pack. This is why Lobo gave Timber to Thor as protection and his seal. Timber and Thor became good friends, and now travel together.
-Powers: Same powers as Wolfsbane, except breaths the frost, He is Thor's demon seal and they can combine causing Thor to go into his demon form
Fighting Style:
Fights with his sword
Demon Abilities:
He can run at blinding speeds, breath the frost, also coat his fangs and claws with it
Last edited by Thor on Fri Jul 01, 2011 12:48 am; edited 1 time in total



Posts

: 5


Join date

: 2011-06-27



APPROVED, but there is no pic of the wolf and only demons and half breeds should be able to understand Timber.
Admin




Posts

: 31


Join date

: 2011-06-27






Posts

: 5


Join date

: 2011-06-27





Similar topics
---
Permissions in this forum:
You
cannot
reply to topics in this forum